On September 6, 2023, IES Associate Director Akasemi Newsome co-led a workshop titled, "Excellence, Identity, and Inclusion: The Experiences of Diverse Scholars in Germany" at the Berliner Medizinhistorisches Museum der Charité; in Berlin, Germany. The workshop was the brainchild of Dr. Andrea Stith, Director of Research Development at Northeastern University and Board Member of the American Friends of the Alexander von Humboldt Foundation.  Mr. Christian Haenel, President of the American Friends of the Alexander von Humboldt Foundation welcomed participants before ceding the floor to two distinguished panels of experts.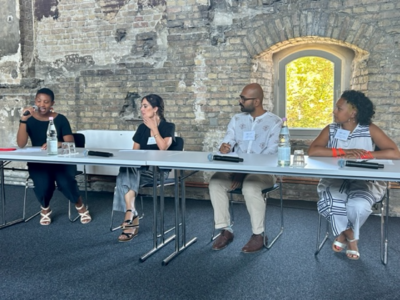 Panel 1, titled Perspectives on Identity, Empowerment and Scholarship, featured Professor Naika Fourotan, Humboldt University and the German Center for Migration and Integration Research (DeZim); Mr. Kennith Rosario, German Chancellor Fellow, die Taz; Dr. Aki Krishnamurthy, Anti Racism and Empowerment Officer, Alice Salomon Hochschule Berlin. Panel 2, titled Equity, Access and Success in a Professional Context, featured Ms. Verity Cook, Doctoral Candidate, Neuroscience, Charité–Universitätsmedizin Berlin; Ms. Erin Moody, German Chancellor Fellow, Bureau for the Implementation of Equal Treatment and  Ms. Lara Martins, German Chancellor Fellow, Justus Liebig University Giessen.
Panelists brought international and multi-disciplinary perspectives to theissues of identity, empowerment, and scholarship as well as to questions of equity, access, and success in a professional context. Topics discussed included: What are the main challenges and opportunities for diverse scholars working and studying in Germany?  What are the long-term consequences if we ignore DEI? After a lively Q&A session with the panelists, participants gathered in world cafe style focus groups for additional discussion. The event concluded with closing remarks by Dr. Johanna Seibert, Deputy Head of Strategic Planning, Alexander von Humboldt Foundation.